---
May Increase Muscle Strength in Well-Trained Athletes!
Patented blend of zinc, magnesium, & vitamin B6
Available in 90 and 180 capsule sizes
Stack with other strength & recovery products
Designed to enhance testosterone production
Beyond The Basics: Optimum ZMA Product Highlights:
Contains the patented blend of Zinc, Magnesium, and Vitamin B6
May support Increases in Testosterone Levels and Muscle Strength in Well-Trained Athletes*
May Offer Even Better Results When "Stacked" with Creatine, Glutamine, HMB, or Other Strength & Recovery Products*
Available in 90 and 180 capsule sizes
University laboratory tests suggest that this formula enhances healthy testosterone production, leading to greater muscle strength gains in athletes!*
Two recent clinical trials have suggested that a synergistic combination of Zinc Monomethionine Aspartate, Magnesium Aspartate, and Vitamin B6 may significantly increase anabolic hormone levels and muscle strength in well-trained athletes. The novel Zinc Monomethionine Aspartate formula may also help to increase endurance, healing, growth and restful sleep.*
Customer Reviews
21/06/2021
Anonymous

Thailand
Better sleep quality
I have only been using these for a few days (one capsule 30 minutes before sleep). My sleep quality is definitely better. This personal anecdote with n=1 is hardly scientific, but I a scientist by training and by nature, that is to say I am generally sceptical of supplements. But my initial impression is that there may be something to this, and I will order more if the benefit continues.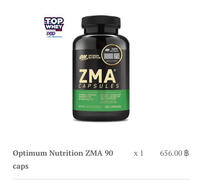 26/04/2021
top

Thailand
สินค้าดีครับ
รู้สึกว่าร่างมีพละกำลังดีขึ้นครับ
24/04/2021
Anonymous

Thailand
Optimunm Nutrition ZMA 90 Caps
Optimum Nutrition is a great brand, when I take ZMA Im feeling fresh and rested in the morning .Try it you will like it.
24/04/2021
Anonymous

Thailand
ZMA ช่วยให้นอนหลับได้ดี
ค้นหาจาก กูเกิล เมื่ออ่านรายละเอียดแล้วเห็นว่าประกอบด้วยแร่ธาตุและวิตามินที่ร่างกายต้องการ
06/03/2021
Anonymous

Thailand
Best ZMA on the market in Thailand
I like what ZMA does. I feel like I have better sleep and I have less muscle fatigue . It's a must buy if you're training hard.